Welcome to Tenshi Nanka Ja Nai Wiki.
The Wiki that anyone can edit.
Please look over our policies before editing.
We are currently editing over 25 articles, and 62 files since September 4, 2012.
Welcome to Tenshi Nanka Ja Nai Wiki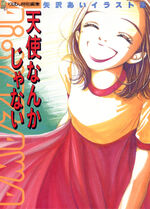 Tenshi Nanka Ja Nai Wiki is a small fan-created wiki about Ai Yazawa's manga, Tenshi Nanka Ja Nai that is open to anyone willing to edit. This wiki includes chapter, character, and many more pages to make this wiki the best resource for Ten-nai.

About this wiki...
Don't know anything about how to edit? Here are some guides that can be helpful for you: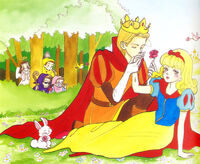 Don't know how to help or improve this wiki? Here are some links that can guide you:
Here at Ten-nai Wiki we have some rules for the users behavior and edits. Follow this small list of rules and you will have a great time here:
Foul language is not allowed under any circumstances.
Illegal content is forbidden on the Wiki.
Vandalism will result in an immediate and one week ban.
All of the pages should include real, factual content.
If the edits you make do not provide anything to the wiki, you'll be warned.
If you continue with those edits, you'll be banned.
About Tenshi Nanka Ja Nai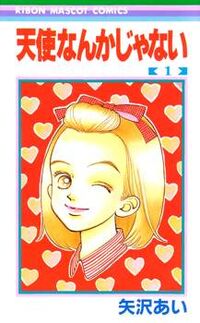 Tenshi Nanka Ja Nai (天使なんかじゃない, lit. "I'm Not an Angel"), often shortened to Ten-nai, is an eight-volume romantic comedy manga written and illustrated by Ai Yazawa. The series was published in Ribon from September 1991 to November 1994. It was published in volume format by Shueisha, and was reprinted into six volumes in 2000 and six volumes in 2008. An OVA adaptation was unveiled at the spring Ribon festival in 1994 and later released on home video. Later in 1994, Ai Yazawa published an artbook dedicated to Ten-nai.
The story centers around Midori Saejima, who develops a crush on Akira Sudou after entering Hijiri Academy. Midori joins the school's student council, and a cast of supporting characters enter. This includes Yuko Mamiya, Shuuichi Takigawa, and Bunta Kouno. A number of other characters join in as the story continues. Read more...
Characters
Helping out
All pages can be edited and you are welcome to join us and contribute to this wiki. Everyone is free to create a new page or edit an existing one. If you have any questions about the wiki or helping out, you can ask one of Tenshi Nanka Ja Nai's administrators.
If you are new to wikis, you may want to read the help page.
A list of all help pages can be found in .
If you want to help but you're not sure where to start, try improving the various articles by expanding them.
Another helpful activity would be to check the list of wanted pages for frequently linked-to articles that don't exist yet.
You can find a list of useful templates on .
If you want to experiment with editing a wiki, please do it in a sandbox, not in articles.
Community content is available under
CC-BY-SA
unless otherwise noted.